Back when Jeannie was going through residency in Las Vegas, I developed a routine before my drives out to visit her every few weeks. After work I would go home, shower, change, grab my bag, and leave the house. Before hitting the road, I would always make it a point to get a salty, fatty meal.
Most of the time, that would mean fast food. Sure, it's an American tradition to hit up a fast food joint on a road trip, but that's not really why I used to do it. I chose fast food out of necessity.
You see, I would be driving to Las Vegas after working for almost thirteen hours with only four to five hours of sleep before that. A Starbucks visit was mandatory before starting the drive to keep me awake during the night time drive. Fast food was sort of a prophylactic for the coffee. The salty, fatty fast food would always counteract the effects of the caffeine so I could easily make the drive without stopping.
Not much has changed for me in terms of tradition. Even now, with a child in tow, I still hit up a fast food place and get coffee before I hit the road. Well…now we have to make stops, but food and caffeine seem like much more of a necessity than ever.
Before this particular trip to Las Vegas, we hit up one of the "healthier" fast food joints widely known for their chicken (and very religious owners). Chick-Fil-A has got to be one of the most generous and well serviced fast food chains in the country. They support veterans through events, constantly give away free food, and support the community. I always get a kick when their employees reply with, "My pleasure," when I thank them.
Besides having consistently great food and excellent service, I always walk away from the place with a pleasant experience. They don't cheap out on condiments or refills, they serve the lunch menu during breakfast hours (it might just take them a few extra minutes because they have to make it fresh for you!), and the restaurant is always clean. All of which are huge pluses in my book.
At the time, Chick-Fil-A didn't serve iced coffee, so I still had to make a pit stop after our early lunch to fulfill my caffeine needs. But now that they have flavored ice coffee on the menu, it might be my one stop shop before all of my road trips to Sin City.
Chick-Fil-A – Yorba Linda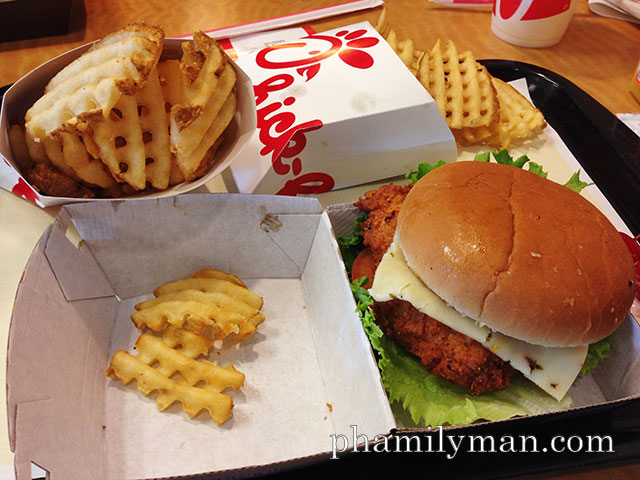 The Spicy Chicken Sandwich Deluxe is a breaded chicken breast with pepper jack cheese, dill pickles, tomato, and lettuce on a buttered bun. The waffle fries are delicious and go well with the restaurant's own Chick-Fil-A Sauce. Treat yourself to some fresh lemonade to round out the meal.