Because of their perfectionist culture, Koreans do a lot of things well. They seem to be able to adapt things that don't necessarily originate in their culture and make it better. Pizza is one of those things.
The typical American will probably think it's weird to put sweet potatoes and corn on a pizza. But then again, they'll also think it's weird to put an egg on a pizza. But guess what? Italians put eggs on their pizza. If you've ever been to Italy, you already know where I'm coming from. Pizza in Italy doesn't resemble pizza in the United States at all.
Anyhow, in a perfect fusion of American and Korean cultures, Love Letter Pizza & Chicken brings a tasty choice of pizza and fried chicken to the table. I've been to two of the chain's locations, but the Irvine one (located in the food court of the H Mart supermarket), is the only one I know of that has the Sweet Potato Gold pizza.
Unlike the Stuffed Crust pizza at Pizza Hut, which is filled with a disgusting lump of cheese, Love Letter stuffs their crust with sweet potato. Starch on starch usually isn't a great idea, but the difference in textures and flavors is just delicious! Go try it. You will never regret.
Love Letter Pizza & Chicken – Irvine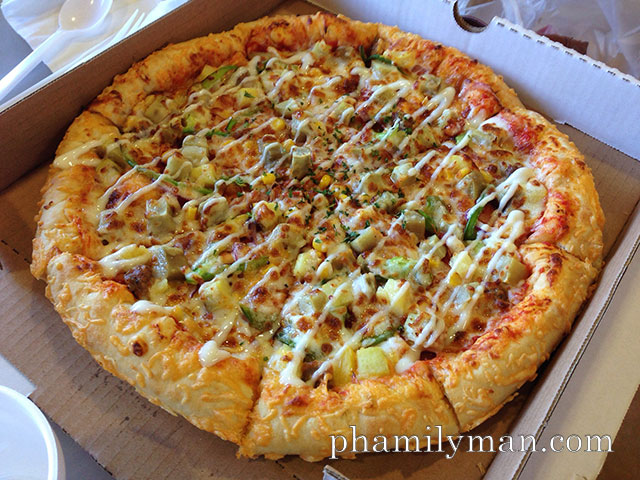 Sweet Potato Gold Pizza. Sweet Potato, sausage, corn, pineapple, ham, cheese, onion, and bell pepper, topped with white sauce. The crust is filled with sweet potato mousse. Ooey gooey golden deliciousness!