I admit it. I got a little tickled when Jeannie told me that there was an all you can eat sushi restaurant somewhat near us. It had pretty good reviews on Yelp and the pictures of the food looked decent.
Sometimes people on Yelp suck.
We came to the restaurant relatively early. It happened to be during the NBA playoffs and all of the big screen TVs in the place were on the same channel, except the one behind the sushi bar. They were watching golf over there. I'm not really a sports guy, but I like to see the championship events whenever they're on. However, in this case, it was really annoying to be in the restaurant when the game was on. The volume was on way too loud to the point that it was hurting my ears.
Anyway, it's a pretty good sized place with booths around the perimeter and tables in the middle. It's a Korean run sushi joint where they make you order off a checklist. There is no time limit, but you only get three rounds to order. The service was pretty good. It's just that the food was not. I won't be back here anytime soon. And don't ask me why I took so many pictures when I hated it. I can't explain it myself.
Sake 2 Me – Tustin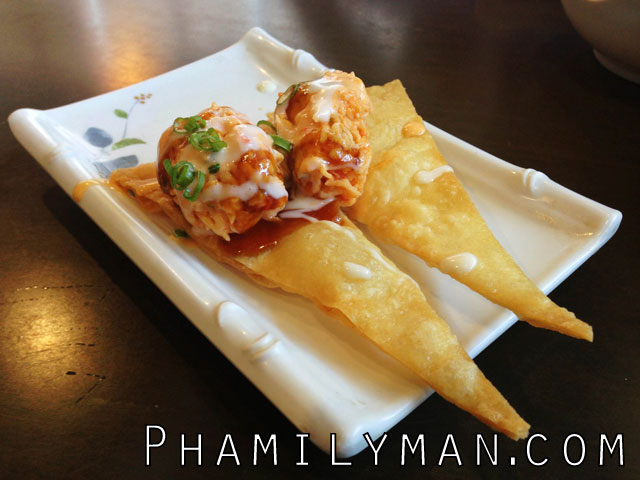 The Chef's Appetizer. I think it's imitation crab rolled up with a bunch of sauce on top of a fried wonton skin. They bring this out automatically at the start of the meal. It's probably the best thing I had here.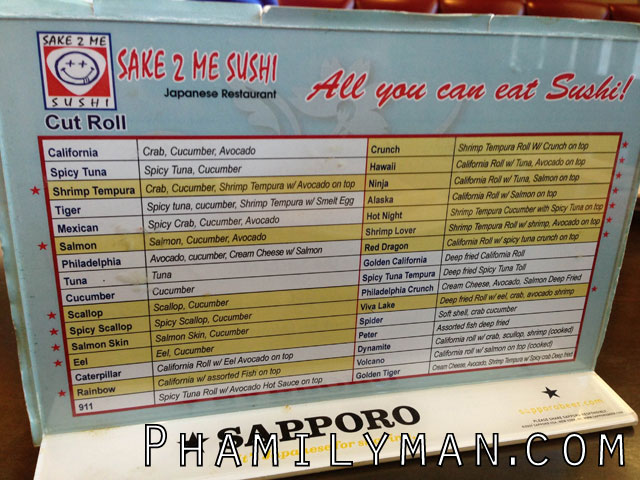 The sushi roll menu. As you can see, a lot of the rolls are California Roll based with stuff on top. Nothing special.
A bunch of nigiri. A lot of people on Yelp rave about the fish-to-sushi ratio. Yeah, it's nice to have less rice when you're trying to get your money's worth at an AYCE place. However, the fish sucked. The quality was poor, the taste was bland. Some of it even tasting like it was left out too long at the wrong temperature, or too recently defrosted with ice crystals still present.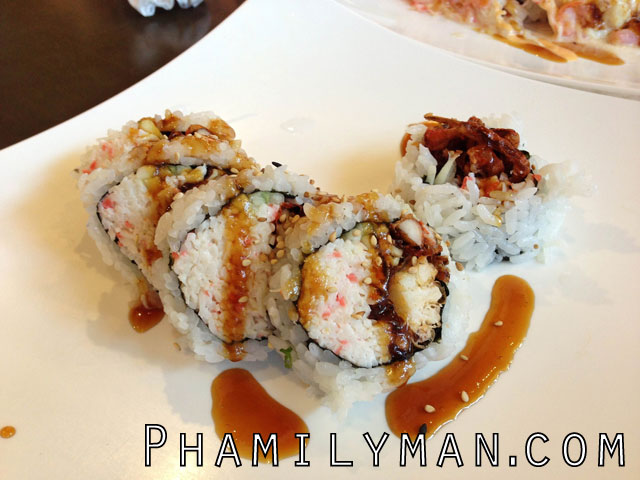 Spider Roll. Major suckage.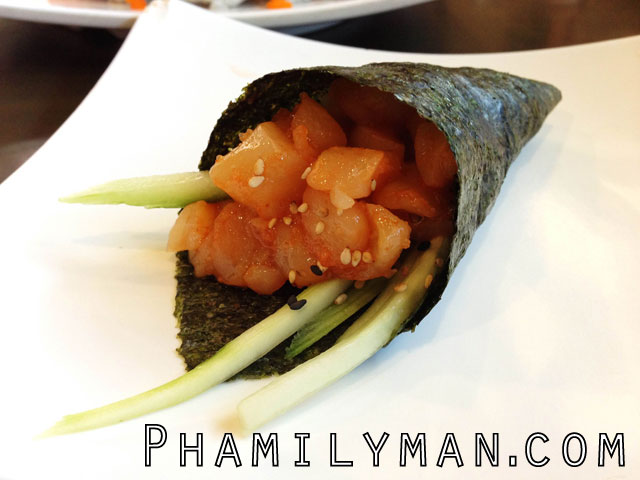 Spicy Yellowtail Handroll. Again, poor quality fish = bad results.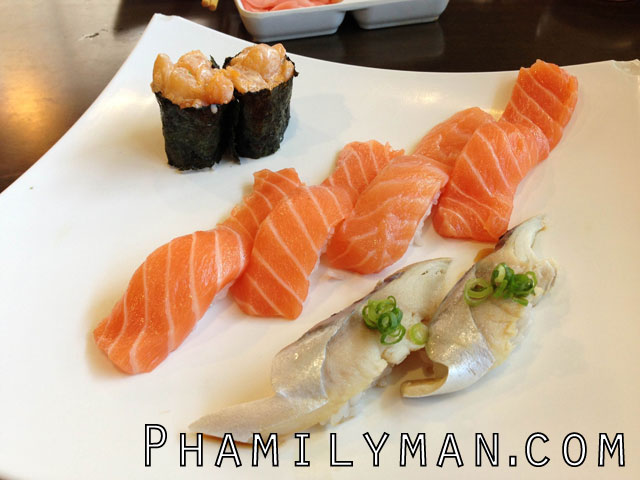 We tried to give the nigiri another go. Another big fail.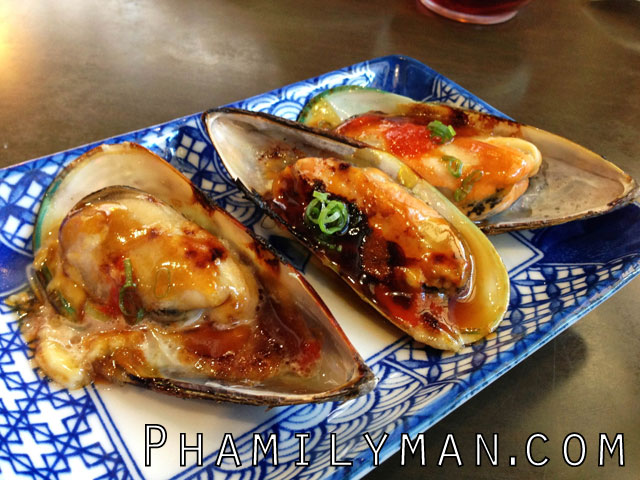 Baked Mussels. I don't think I've been to a place where they've added the eel sauce on top of the yum sauce. I kind of liked it.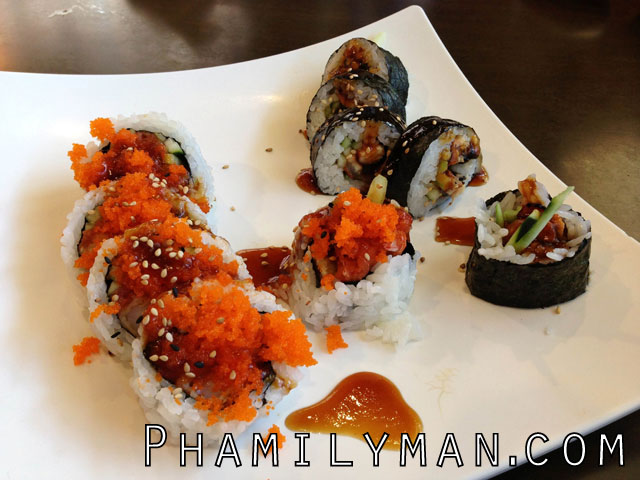 An Eel Roll, and I believe some kind of Tuna Roll. It wasn't satisfying.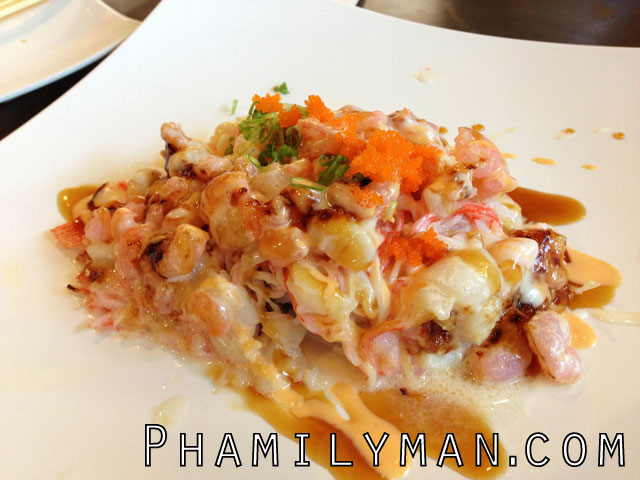 Dynamite Roll. I really wanted to love this dish. I try to order it wherever they have it. This version was a big soupy, saucy mess. What's with all the extra imitation crab lumped in with the scallops?