OC Restaurant Week has come and gone this year, so this posting is quite a bit late. Among all the madness that has been keeping us so busy lately, we had to make time to get over to The Ranch to try out the Restaurant Week menu.
Of course, I forgot to make reservations ahead of time on OpenTable. Knowing full well that The Ranch would be a very popular pick, it was a really boneheaded move. When I tried to look for a reservation on the app, there was simply nothing available. I decided to place a call to the restaurant to see what they had available, and the only table they had was at 5:00 pm. I took it.
We got to the restaurant a little late after dropping off Alyssa, but we had a wonderful time. Everything you see is from the Restaurant Week menu, except for the Mac 'N' Cheese and the Creamed Corn. We got those extra sides because we're piggies.
The Ranch Restaurant & Saloon – Anaheim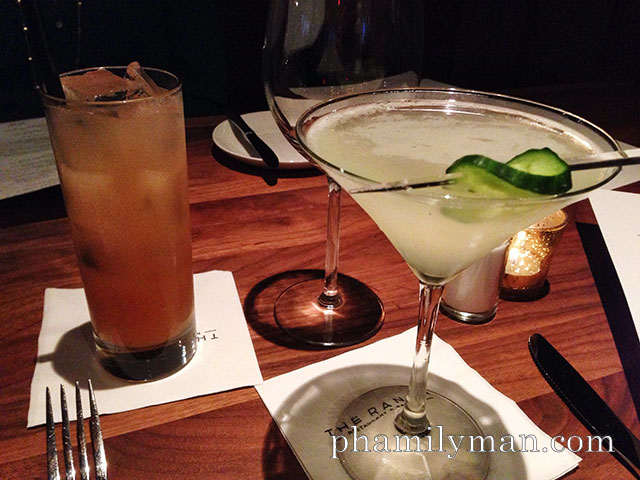 Cucumber Martini. Hendricks Gin, St. Germaine Elderflower, muddled cucumbers, fresh lime juice mint and simple syrup. An extremely refreshing gin-based martini.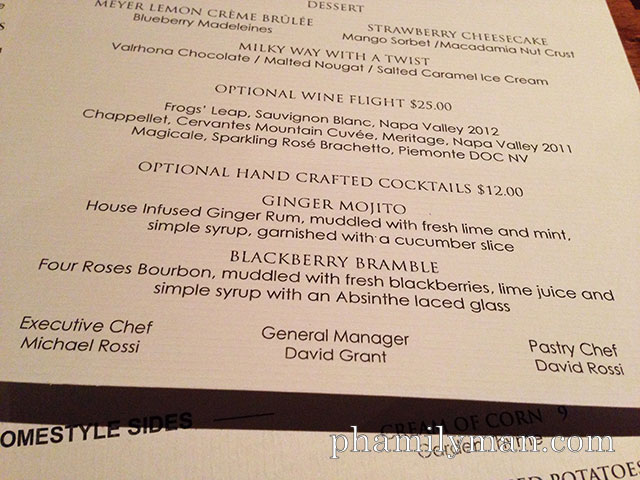 The fun portion of the OC Restaurant Week 2014 menu. I didn't partake in the wine flight like I did during my last meal here. Instead, I went with the Blackberry Bramble.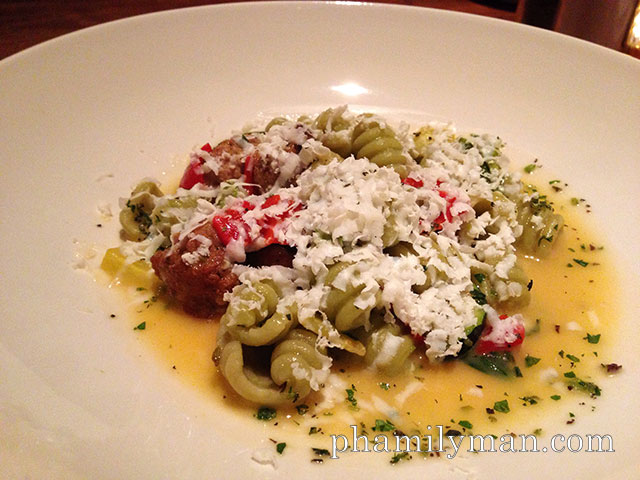 Hand Crafted Asparagus Cavatelli with Home Made Pork Sausage, Calabrian Chili, and Ricotta Salata. A really delicious way to get my meal started.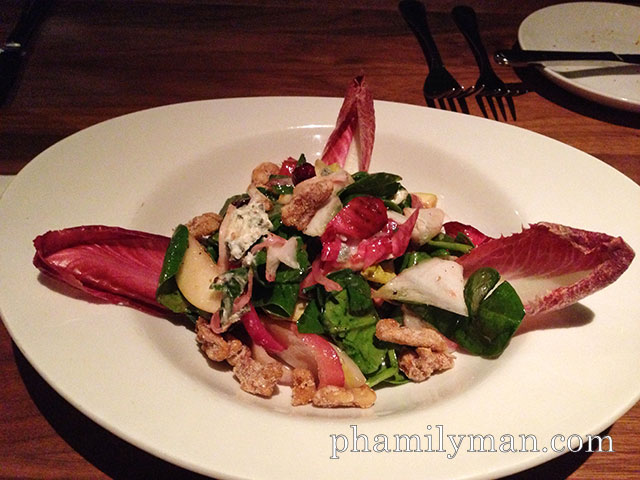 Honeycrisp Apple & Endive Salad with St. Agur Blue Cheese, Candied Walnuts, and Cranberry Vinaigrette.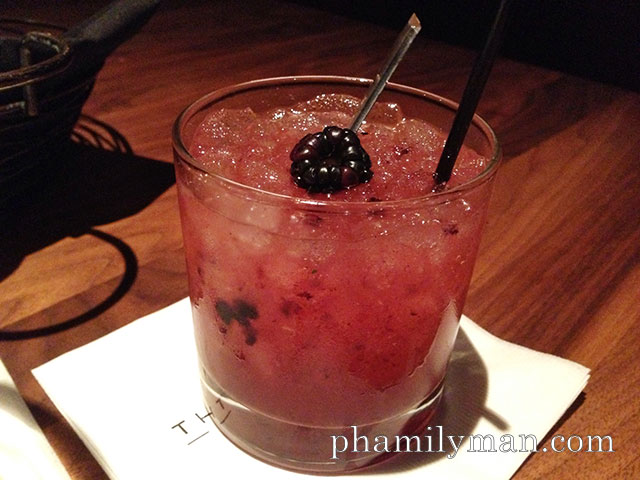 Blackberry Bramble. Four Roses Bourbon, muddled with fresh blackberries, lime juice and simple syrup with an Absinthe laced glass. I thought I was going to get an ass-kicking with this drink, but I guess I'm not a lightweight.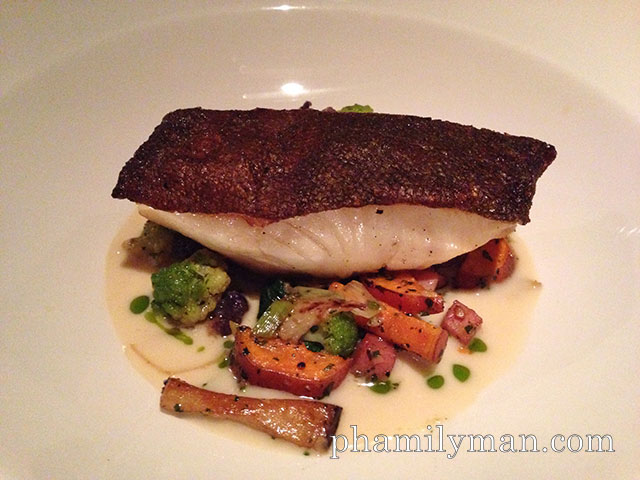 Maplewood Smoked California Sablefish with Sweet Potatoes, King Trumpet Mushrooms, Country Ham, and Cauliflower Velouté. Sablefish is also known as black cod. The texture is like Chilean Sea Bass.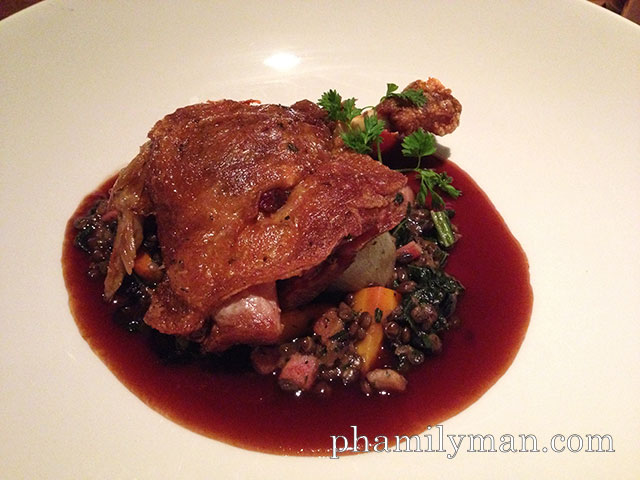 Confit of Muscovy Duck Leg with Beluga Lentils, Home Made Guanciale, Cavolo Nero, and Baby Root Vegetables. I got a nice crispy skin with tender meat on this baby.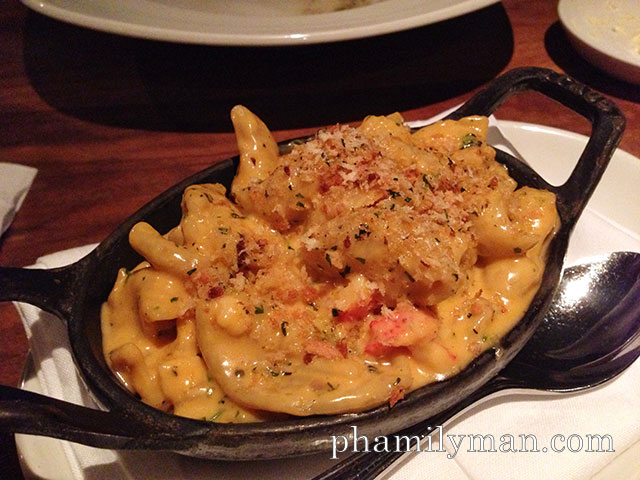 Lobster Mac 'N' Cheese with Vermont White Cheddar and Home Made Pasta. In the middle of eating our main dishes, I could help but flag down our waiter and order some extra side dishes.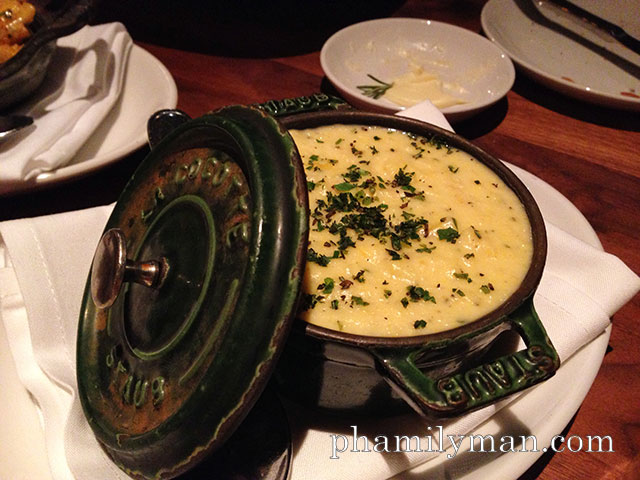 Cream of Corn with Garden Thyme. Kudos to our waiter Aaron for getting these last minute side dishes out to us so quickly.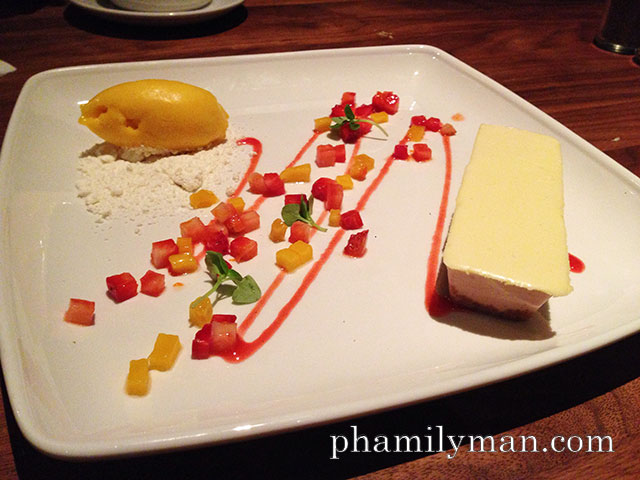 Strawberry Cheesecake on a Macadamia Nut Crust, served with Mango Sorbet. This cheesecake was really fluffy and tasted light, opposed to the typical dense cheesecake. It went great with the fresh fruit garnish.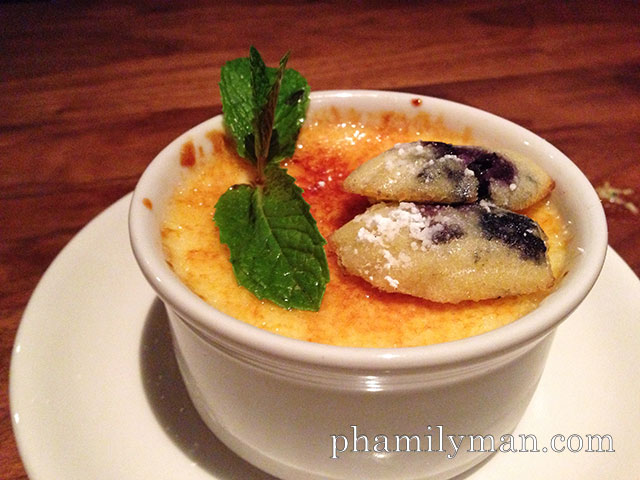 Meyer Lemon Creme Brulee served with two mini Blueberry Madeleines.