It's pretty interesting how tastes change and evolve. Several years ago, when I wasn't married yet and was still living as a vampire, I used to go eat a lot with my brother and cousins in the late of night. We went to the Gyu Kaku in Huntington Beach almost twice a week. Back then, they had a general manager that was from Japan running the show. They had menu items that we absolutely loved, and we could usually get a table pretty quickly.
Suddenly, cooking your own food became trendy. The menu items that we loved started disappearing, and the menu started becoming more and more whitewashed. And sadly, the manager went back to Japan. The remaining assistant manager that we knew, who always ensured that we were provided with good service, eventually left too. That's when things went downhill.
Service started to stink, and the place became overcrowded and "club-like," with all kinds of douchebags loitering in the restaurant with drinks and no where to sit. It became annoying to go there. The hostesses couldn't even seat us within a reasonable amount of time, even when we had reservations. So, we just stopped going.
One night Jeannie and I went to Tustin with the intent to eat some K-BBQ at GEN. The wait was over an hour, it was getting late already, and we were starving. Knowing that there is a Gyu Kaku down the street, we just decided to book a reservation with the OpenTable app and give the restaurant a shot.
The first, and only big, problem was being banished to the awkward corner on the side of the restaurant right next to the kitchen entrance for the wait staff. I HATE being segregated in a particular area of a restaurant just because I have kids. We're definitely not perfect, but my daughter is pretty well behaved. We don't deserve that.
There was a cart for the used/fresh grills and utensils right next to us, so all night we got to hear the racket of the grills being taken and put away while the wait staff hustled in and out by us with orders.
The second problem with Gyu Kaku these days is that the menu is 50% crap. All of its authenticity has disappeared. It has been terribly whitewashed. So if you're looking for authentic Japanese Yakiniku , you're not going to find it at Gyu Kaku anymore. That said, it's really not that bad. If you're not strict about authenticity and order the right things, you can have a pretty good meal here.
Gyu Kaku – Tustin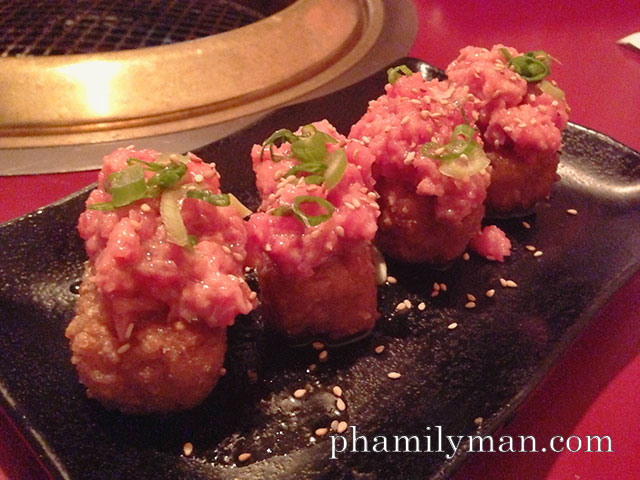 Spicy Tuna Volcano. Deep fried rice balls topped with spicy tuna and chives. It's a good appetizer when they don't overload it with sauce.
Harami Skirt Steak is a good beef option.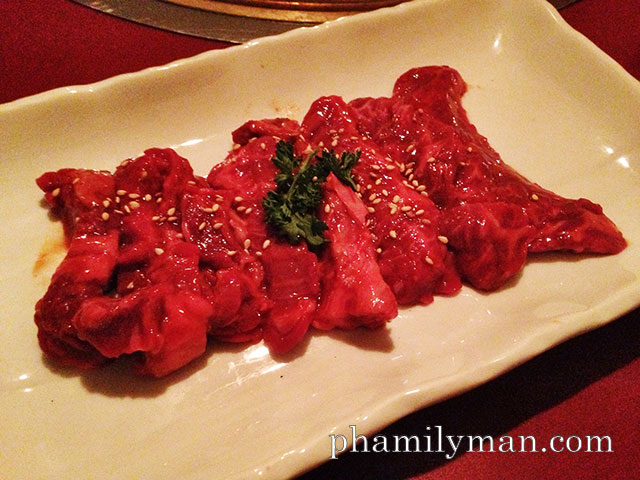 Kalbi Short Rib is never a bad choice.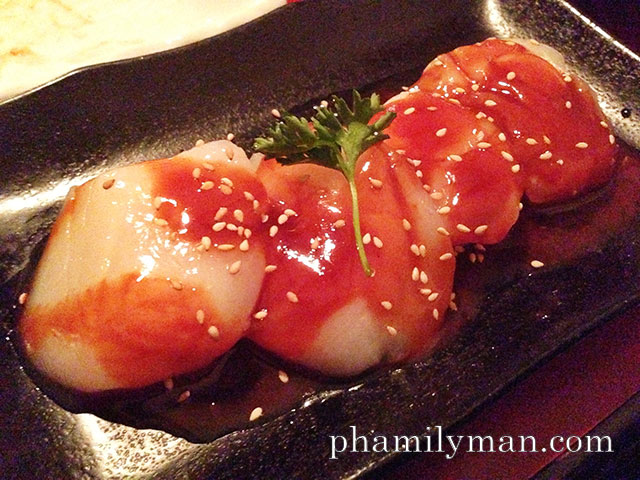 The scallops didn't appear, nor smell, too fresh.