Have you ever wondered why pho restaurants are numbered? Why do they all seem to have a random two digit number after the word pho?
The answer is simple, and usually one of two variations. The first, and most likely, answer is that the number represents the year the owner immigrated to the United States from Vietnam. The second, less likely, reason is that the number represents the year the owner established the business.
Pho 79, a Zagat rated restaurant, is the best pho restaurant in the Little Saigon area. Despite its unlikely location behind a liquor store at the corner of Brookhurst and Hazard, it is the place to go.
Go ahead, go on a weekend or during lunch or dinner rush. You're going to have a difficult time finding parking in the craptastic broken asphalt lot with no painted lines for the parking spots. People will blatantly park in the red zone right outside the front doors. Seriously though, you could choose not be a jerk and just park on the street. Just don't forget to put your name down on the clipboard while you're waiting.
The interior is nothing to brag about. It's just a large open rectangular room with a bunch of tables and chairs. Would you believe that they remodeled not too long ago? I've got to give it up to them for their extremely accurate ordering system using iPads though. It's pretty interesting to watch the old guys punch away your order on the touch screen.
Anyways, unlike the newer fancy looking pho restaurants that are along the main drag on Bolsa, Pho 79 has outstanding broth and generous servings of rice noodles and meat. Plus you'll get a good heaping of fresh bean sprouts, basil, and mint. They also manage to keep their prices at a fair level, so it's pretty budget friendly.
If you've been going to a different pho restaurant, you need to just stop it. Get over to Pho 79 and enjoy some real pho.
Pho 79 Restaurant – Garden Grove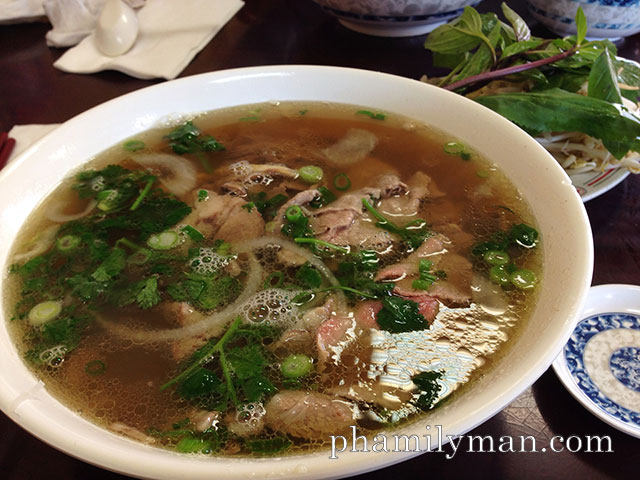 A big bowl of pho with rare beef and fatty brisket.