The wife craves sushi – you go eat sushi.
We went to Kirala, a small Japanese restaurant near my brother's house that is highly rated. It was jammed pack and the only real awkward part of waiting for a table is moving through the dining room to get to the waiting area in the back of the restaurant.
Service is speedy, quality of the fish is good, and the prices are fair. I'm not sure if it's a sushi factory (our pet term for sushi restaurants that have a sushi bar, but still require you to order through a waitress, and the chefs prepare the sushi in the order received), but you may have a better experience sitting at the sushi bar. Nothing wrong with the dining area, but I prefer to eat sushi when ordered a little at a time instead of being delivered all at once on a large plate. I get excited thinking about the day when I can order at the sushi bar again. Kids!
Kirala Japanese Restaurant – Berkeley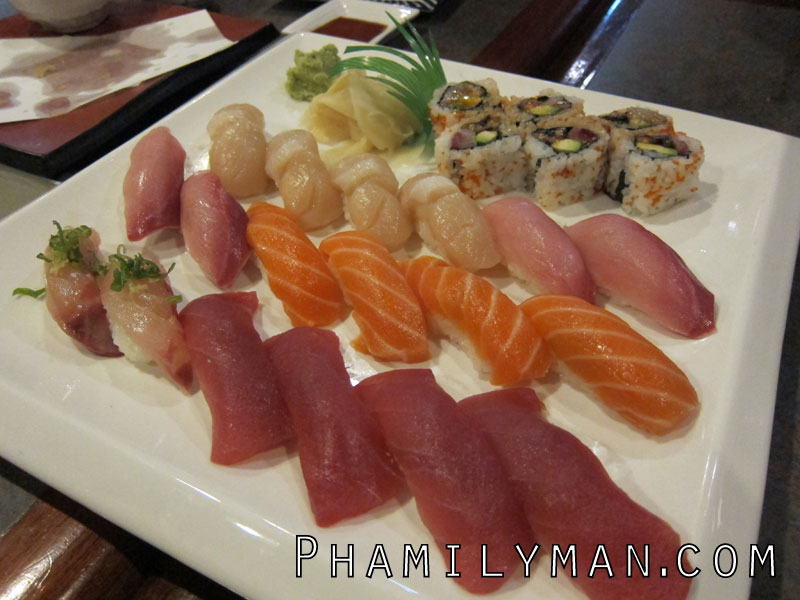 Various nigiri and a roll. Tuna, Sea Bass, Salmon, Yellowtail, and Scallops. I can't remember the name of the roll but I believe it had Yellowtail and Unagi (Eel).
I forgot to take pictures, but we also had a vegetable tempura appetizer plate and a bowl of udon noodles.
Best part of being at the restaurant was watching an odd couple sing out loud to each other in the waiting area. Imagine a tall, pale white guy with long hair dressed in a black trench coat, t-shirt, black jeans, large over-sized boots, accessorized with chains with a conservatively dressed librarian type. Awkward…