I was introduced to Taiko in Irvine by my wife a short period after we started dating. At the time, she didn't eat anything raw, so it was nice to introduce her to raw fish at a quality sushi restaurant. Taiko grew to be our favorite sushi restaurant in short time. My favorite memories of Taiko, though, were not with my wife.
When I was still in school, it was tough getting particular classes on the main campus that would match my abnormal work schedule. I would occasionally have to take night classes in Irvine. I didn't have any quarrel with taking night classes, because it suited my night-owl lifestyle.
There was one particular semester towards the end of my schooling when I had a class on a Tuesday night. I would go sit at the sushi bar at Taiko alone and have dinner before hustling to the campus every week. That's when I really learned to develop my taste for sushi.
Going every week, I learned that it was so much easier getting a spot at the busy sushi bar when I was alone. Except for one night, I was always able to squeeze in between an odd party. I got to know the three main sushi chefs' styles and methods well enough to pick a favorite. Watching other regulars and hardcore sushi eaters also taught me a thing or two. I ventured beyond what I would always order and regularly tried a new dish every visit.
When I first started going alone, I would pig out as if I haven't eaten all day. I really didn't need all the food, but I was just greedy and acting as I haven't been to sushi in a long time. It's when I started mellowing out and respecting my true appetite that I truly began to enjoy the sushi bar experience. I learned to slow down and put in only one order at a time, giving myself time to savor each bite. Instead of just shoving fish down my gullet, I started to be able to discern between the subtle flavors and the acquired a love for both lean, and fatty cuts.
One of the fun parts of going every week were the regulars. After seeing them order the same things so many times, they started to become predictable. I noticed strange eating habits, and the really bad choices people made while pairing their foods. Some people loved to drown their food in sauces. Some people didn't want rice in their nigiri sushi, but turned around to the waitress and ordered a bowl of rice. Some people created custom rolls or dishes with so many different kinds of fish and ingredients, it was just a mish-mash disaster. I would grin and laugh to myself when the sushi chefs would turn and talk to each other in Japanese complaining about the monstrosity they were forced to create.
After I graduated from school, I no longer had a reason to visit Irvine so regularly. I miss those nights at Taiko. After every visit, the entire staff behind the sushi bar would say, "See you next Tuesday!" Since then, even when I only get to come by every so often, they still say that to me.
Taiko Japanese Restaurant – Irvine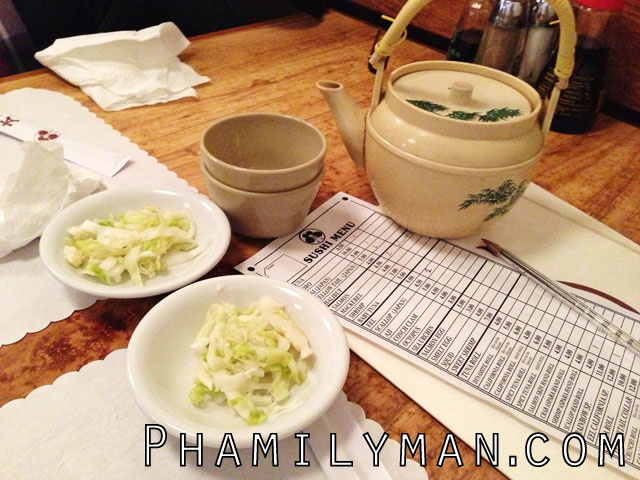 Tea and Salted Cabbage that comes automatically with dining room service. You'll pay a service charge to get sushi in the dining room. Sometimes, however, it's the only choice you have to get sushi – unless you're willing to wait it out for the sushi bar.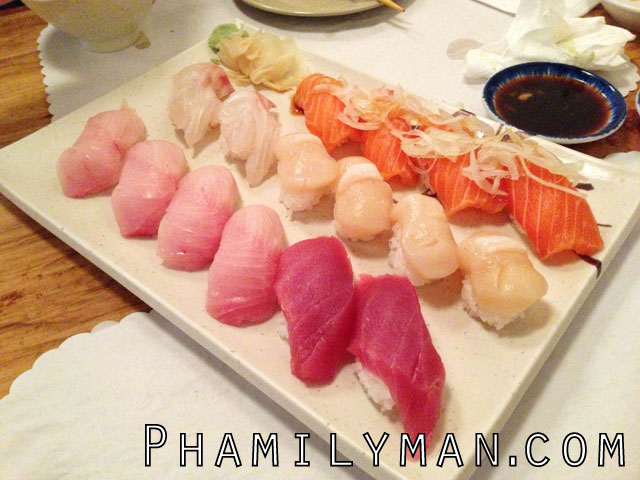 Tuna, Yellowtail, Scallop, Red Snapper, and Salmon Nigiri. Large, generous cuts without being overwhelming.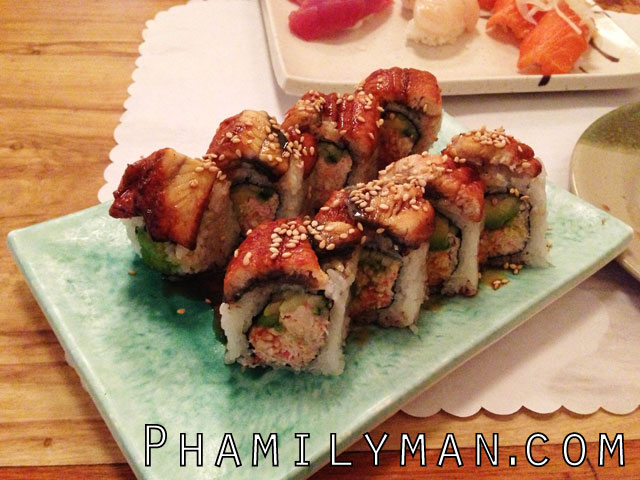 Eel California Roll. My favorite roll here. Taiko uses real crab meat mixed in with imitation crab to fill their California Rolls.