I think I might be expecting too much when I go to "high-end" steakhouses. I always end up enamored with the service and side dishes, but never the main event.
A couple Sunday's ago, I went to Fleming's for the first time. I don't think I would have ever visited one had I not been invited to celebrate the birthday of a family member. They live close to the ocean, so Fleming's was really just a stones throw away from their house.
Although valet parking was available, I always try to park for free because I like to do things for myself. But since parking was to the rear of the business complex the restaurant is located in, it was kind of a pain to lug Alyssa to the restaurant while she was in her car seat.
We got there early for dinner so the restaurant was pretty quiet. It did fill up quite quickly after about an hour though. Service was exceptional and well managed for a large party. Would I go back? Probably not. I think I'd be happier buying a pack of steaks from Costco and cooking it myself in the backyard rather than paying exorbitantly high prices just for service. I'll serve myself, thank you.
Fleming's Prime Steakhouse & Wine Bar – El Segundo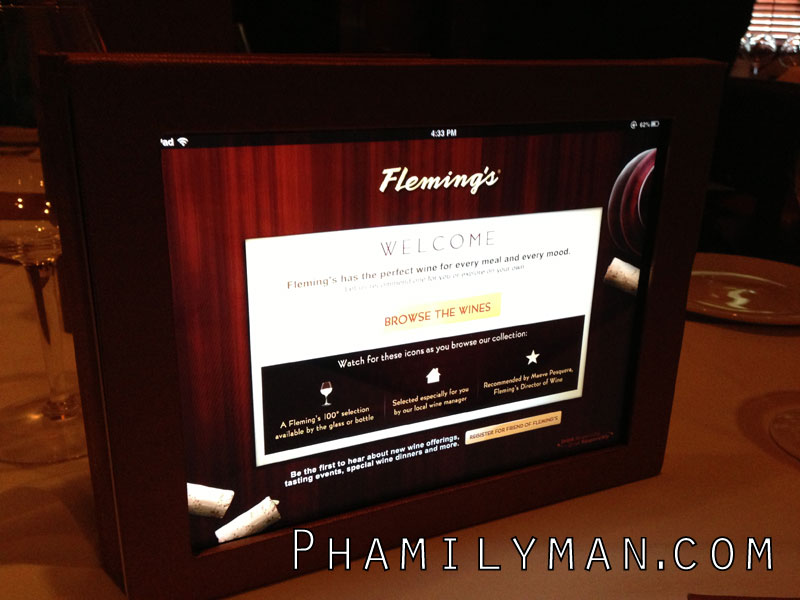 Fleming's has iPad's on the tables to serve as a Sommelier. This is totally unnecessary. It takes up a lot of room on the table, the app isn't that responsive, and some of the functions don't even work. If I'm paying fifty bucks for a steak, I want a real person to pair my food with wine.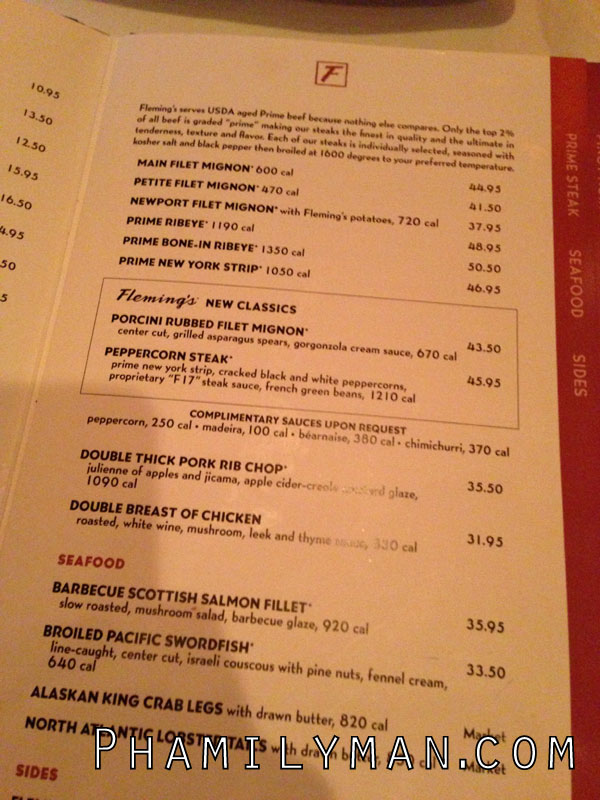 I guess it's on par with Ruth Chris and Morton's.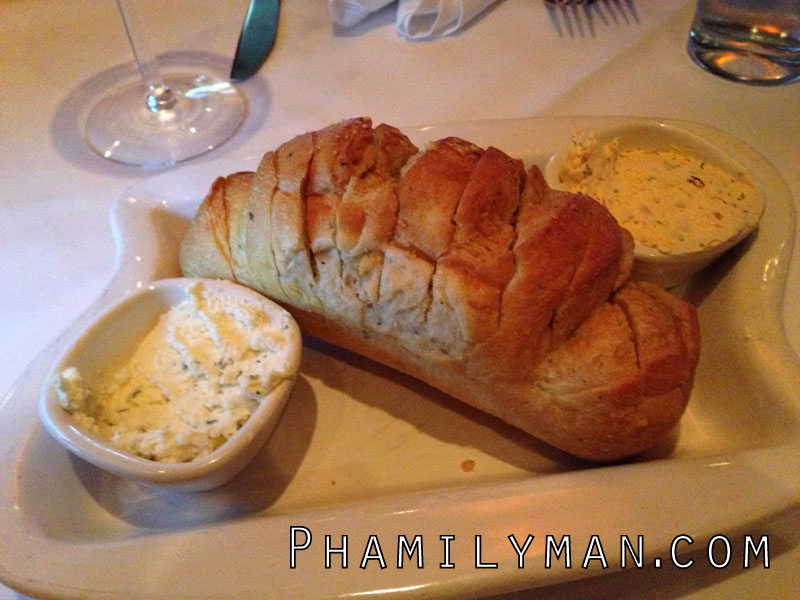 The bread and flavored butter was good. I just don't get why they can't cut the loaf all the way through. It was a pain to separate the slices. Using the butter knife on the table to cut the bread just resulted in smashed, uneven pieces.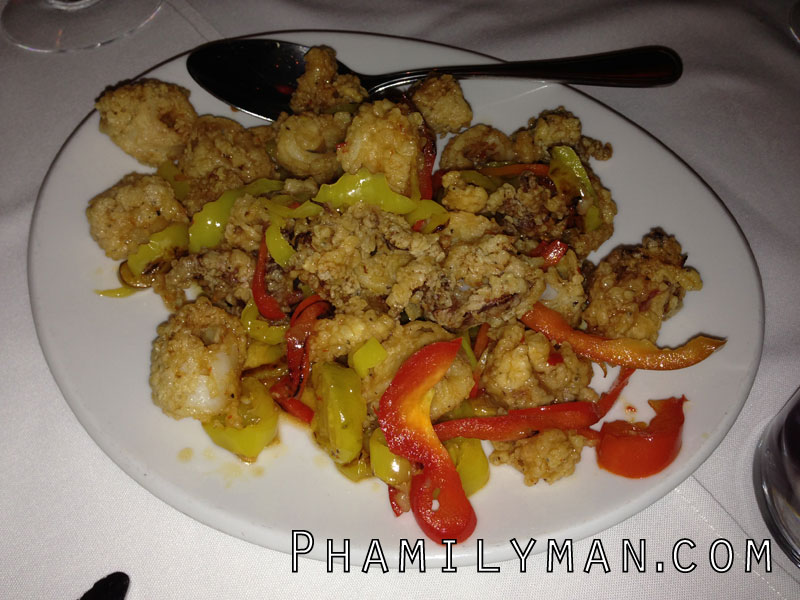 I admit. The calamari appetizer was probably one of the best I've had. It's a nice take on the standard fried calamari and marinara sauce. I can't identify the sauce/dressing they put on it, but it was tangy and sweet. If I had a complaint about the dish, I would just recommend that they put/or you ask to put the sauce on the side. After a while, the calamari soaks in the sauce and gets soggy.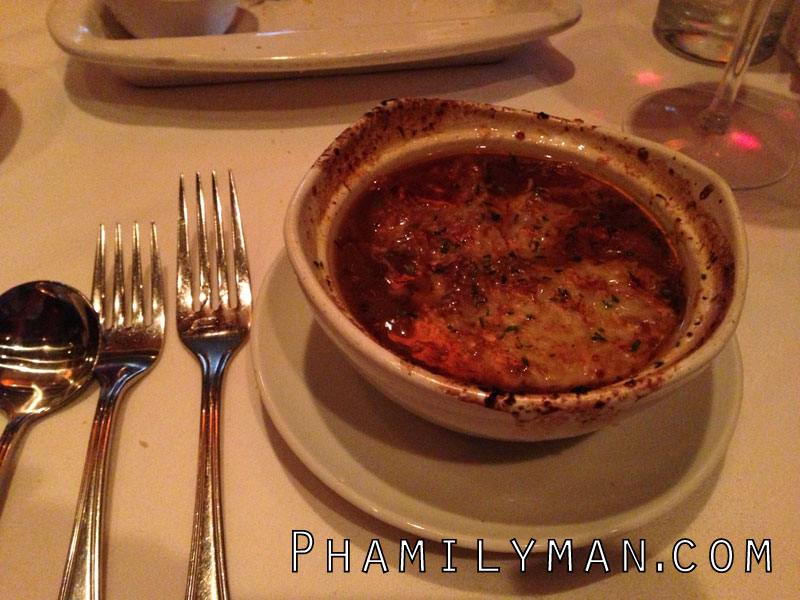 French Onion Soup. Boy, was this ever so salty. It wasn't bad when I got a spoonful cheese to go with the spoonful of soup, but everyone at the table complained about the saltiness.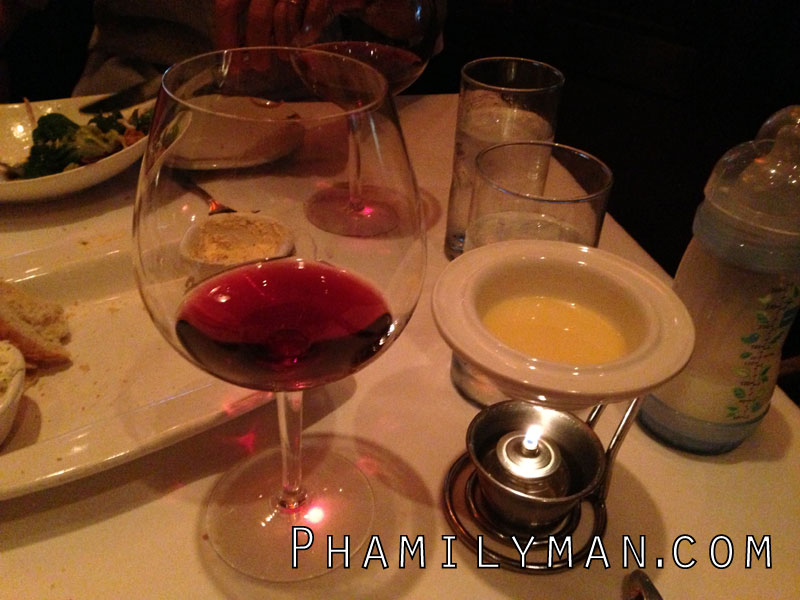 The butter warmer thing is a novel idea. I'm not sure if it was clarified butter or not. I actually don't like the idea of dipping lobster into butter for flavor. I think it's weird. If you want to have good, well seasoned lobster sans the butter dipping, have it at a good Asian seafood restaurant.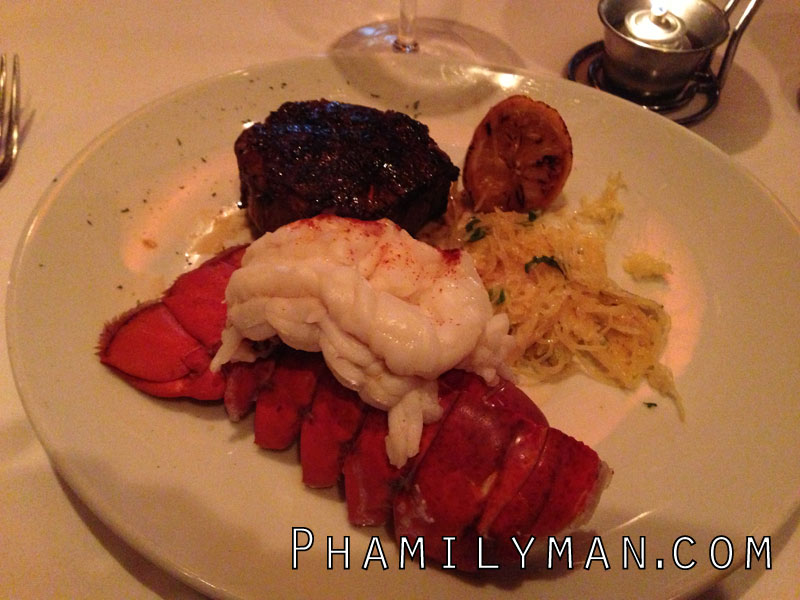 On Sundays, Fleming's has a Surf & Turf special. It's a petite filet mignon and lobster tail with a side of spaghetti squash. They present the entree with the tail intact and then come around the table to separate the meat from the shell. It's just lobster tail with some (I think) paprika on it. Meh.
I always order my steaks medium-rare, but it came out more medium. I think they might have switched my plate with someone else's at the table. Otherwise, the filet had a nice crust on it and was enjoyable.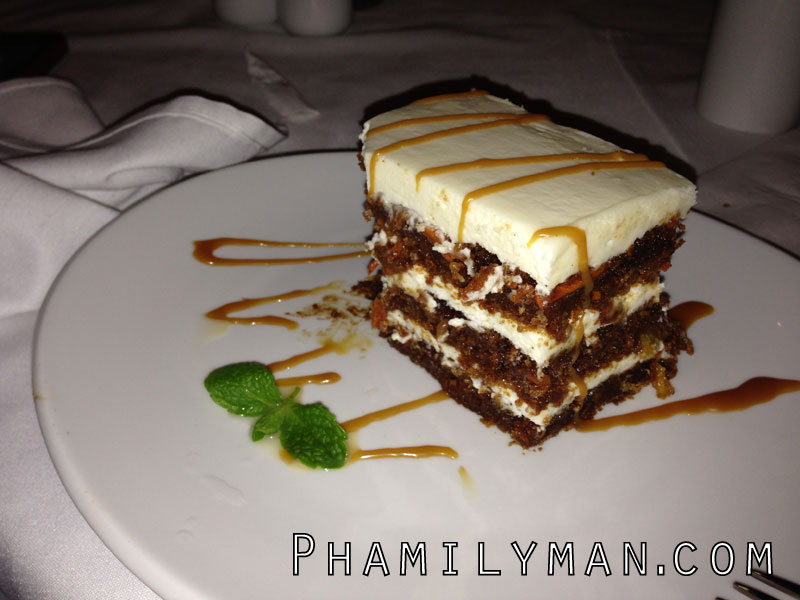 I probably shouldn't have had any dessert, seeing how I ate a bunch of bread early on in the meal, but I just couldn't resist the offer to share it with my little cousin. The carrot cake was unusually dense and tasted as if they sweetened up the cake part with simple syrup (a trick I've seen before at bakeries to make the cake seem moist). Being the piggy that I am, I still ate it. However, I longed for the carrot cake that Jeannie makes which comes out light and fluffy (cream cheese icing included).