Many years ago, my brother introduced me to Porto's with a Potato Ball. Golden brown potato crust on the outside, soft mashed potato on the inside, filled with seasoned beef in the center. It's just awesome.
Ever since then, if I ever found myself near Glendale, I'd make it a point to have lunch and desserts of pastries and cakes. Some years have passed, and Porto's has opened a location in Downey. I still remember how excited I was when I heard about the grand opening on TV. It's still a trek, but is a lot closer than Glendale.
It doesn't matter what time you come, expect a long line. In fact, they have two lines. One is geared more towards cakes and pastries, the other for sandwiches (but you can really order anything from either side). The lines end up at the counter, where it turns into a gaggle of customers interacting with the legions of employees. I would try to decide what you want beforehand, because it's tough navigating the counter once you get up there.
The staff here is pretty incredible. I don't know if they're required to, but every single employee I've dealt with will memorize your order as you rattle off what you want. Now, keep in mind that this isn't the kind of place where you just order one pastry and a coffee. No. You order hordes of food because you've worked for it by waiting in that line.
If for some reason, you haven't been here before, or just want to try something new – you should know that samples of pastries are given in their entirety. I mean, you get the whole pastry if you want to try it. That's pretty darn generous, and the first time I experienced getting a sample, Porto's won my loyalty.
I like the Cheese Roll, Guava & Cheese Strudel, pretty much every Empanada, Potato Ball, Tiramisu, Cuban Sandwich, and a bunch of their cake offerings. There really is too much to name. This single photo I have was the only shot I could get without someone in the picture. It really doesn't do the length of the pastry and cake display justice. Go. Go now. You will never regret!
Porto's Bakery & Cafe – Downey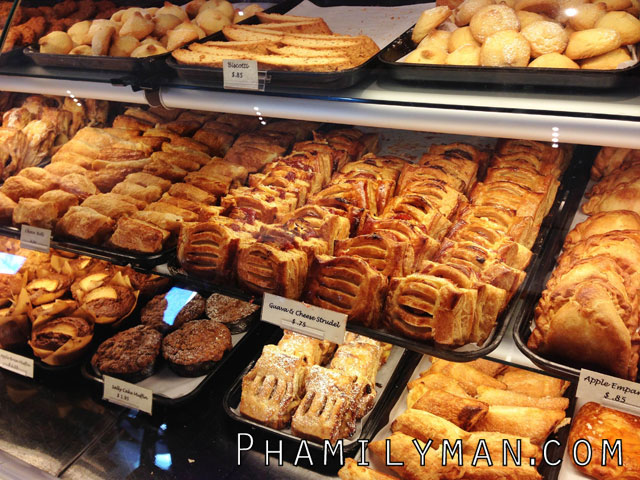 The pastry and cake display case. It goes on and on and on…