Unless the food makes me gut-wrenchingly sick, I usually give most restaurants a second try. TK Burger was no exception.
My first experience with TK Burger was out of desperation. I was out running an errand with my dad and was in standby mode. I hadn't had anything to eat all day and I was starving. I couldn't really go anywhere, so the place I chose to eat at had to be accessible by foot. There were actually a few choices, but a burger from a new place sounded good.
Sadly, the experience was really disappointing and it left an inner yearning as I was unable to satisfactorily reach a burger nirvana. Naturally, I kept my distance for some time, as to let the memory banks in my brain clear themselves out in order to forget my mediocre experience.
Fast forward to another errand day that left me temporarily stranded. What better moment to give TK Burger a second chance at redemption?
The result? At least they're consistent.
If you eat in, you get your food served to you on a cheap, flimsy paper plate. If you get it to-go, as I did in this instance, your meal is brown bagged. The burger is wrapped up in a sheet of pre-cut foil, accompanied by fries in a typical paper envelope.
The bun has a weird consistency that's somewhere between soft and too flaky – almost to the point where it's crumbly and doesn't taste finished, as they don't even bother toasting it a little bit. The burger patty is dry and unseasoned, followed up by a slice of cheese, tomato, lettuce, and red onion.
They have a "special sauce." It's really just a crappy version of a thousand island sauce which has an overpowering ratio of mayonnaise, so it doesn't really taste like much. They also charge you if you want more special sauce. What is this, McDonalds? I hate places that cheap out on condiments. If condiments are the make it or break it factor for your business, perhaps you should rethink your business model.
Finally, the fries. They taste like any restaurant grade bulk frozen variety that you can pick up at any Restaurant Depot. I'm not offended by frozen french fries, but it's definitely nothing special.
If you're a fan, I'm sorry. If you've never been to TK Burger before, be warned that you may need to seek professional counseling after your experience – eat at your own risk.
TK Burger – Anaheim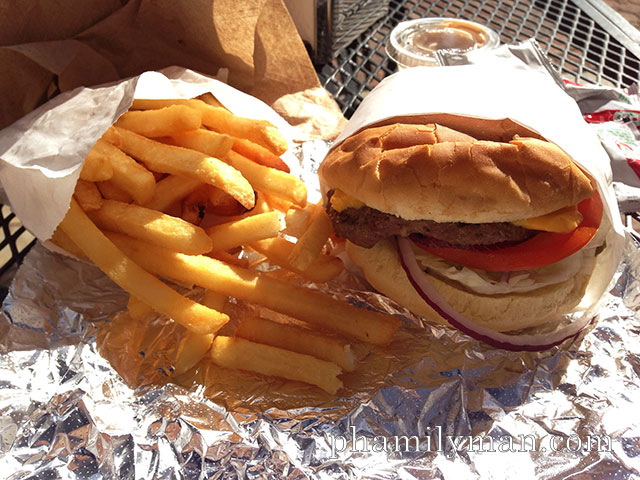 The saddest cheeseburger combo in all of the land.